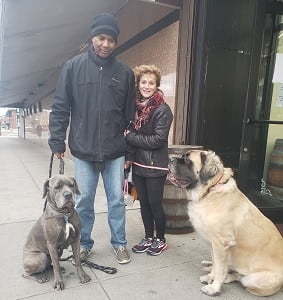 Boy, oh boy, do we LOVE Cane Corso babies!!!!!!!! Zozo is adorable and is super friendly with all. Zozo was obtained from a breeder by a family who eventually did not want her. her current family offered to help and take her in – however, extreme allergies have been developed by the Human and Zozo found herself needing a home again. Her family is distraught and is deeply hurt to make this decision – but its for the best of the dog, as contact with her currently is limited due to the allergic reaction. Zoey is house trained and is friendly with dogs, we do not have cats to test on at the moment, she lived ina house with small kids. She has a lot of energy but spends it quickly and is a perfect house mate. Zoey needs a knowledgeable experienced large breed owner, mastiff breeds preferred, to continue her training, exercise, and socialization to make sure she grows up to be an outstanding adult dog.
Zoey will be spayed, microchipped and vaccinated prior to her adoption.
I'm happy I found my forever family!