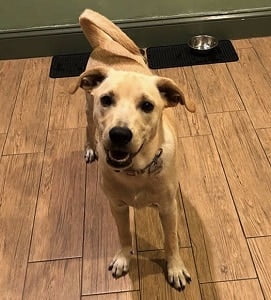 Thor was rescued from the streets of Puerto Rico with the help of Souls of Satos and brought into a safe foster home in Brooklyn as a tiny puppy.
Thor's foster family was immediately so in love with him they decided they wanted to make him theirs forever. But unfortunately the adoptive family quickly realized they're incapable of caring for the dogs properly; incapable of providing them with proper exercise and training that growing pups require at such a young crucial age. So, just a few months later they surrendered him back to us and we are looking for a new forever home for Thor.
Thor loves all people, dogs and children.  He needs a forever home with a leader and the right amount of discipline to be the perfect pup! is super affectionate and loves to give lots of licks and kisses.  He loves the crate and loves to cuddle up to humans! He is a happy energetic pup who still has some more growing to do. Any family would be lucky to welcome this gorgeous boy into their life.
I'm happy I found my forever family!