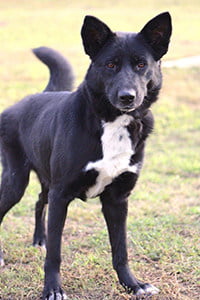 BIO:  Meet ADOPTABLE Stormi. Stormi is a stunning young shepherd mix lady who has successfully completed her board and train program and is ready for a real home and a real family.
Stormi needs a shepherd or large breed savvy adopter who will give her the time, structure, and love she needs to thrive. Someone who is committed to continuing to work with her so she can be under the guidance of an experienced, strong and confident owner. She has become a much more confident and socialized dog. She has also learned manners and boundaries in her training program. Stormi loves other dogs now and is really happy to spend her time playing with them, and will love a canine companion. She loves to be outside exercising and taking in the fresh air, but inside she is a huge snuggle bug who loves cuddling and attention. She'll roll belly up onto the floor and do almost anything for some petting and loving .
In August – After being hit by a car and left for dead, we helped fundraise for Stormi's life-saving surgery and brought her to New York for a new life. Stromi is vaccinated and spayed. Stormi is a smart girl and listens well to a strong leader. She's an extremely gorgeous, 2.5 year old, 48 pound Shepherd mix who will make make an excellent loyal companion.
I'm happy I found my forever family!