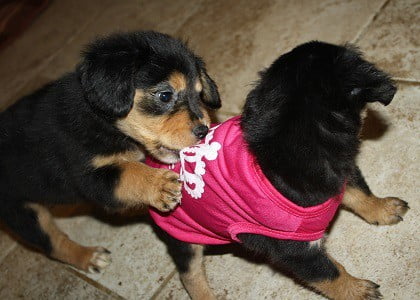 Paris and her siblings love to cuddle and snuggle all day long, being that they are all cared for together – they are well socialized pups, super sweet and FULL of LOVE! If they're not chewing on toys, they're fast asleep (and watching them sleep in the cutest positions is a real treat). These pups will melt your heart with their cute snouts, floppy ears and wiggly butts.
Paris is the second smallest girl in her litter and is super fluffy! Paris can be your new best friend, and is sure to grow into a wonderful and loyal companion who will only fill your home with love. We rescued Paris, her mom and litter-mates from a North Carolina kill shelter, they are are all being cared for in an incredible foster home and are almost ready to find their forever homes!
To apply to be pre-approved to adopt this lab/hound mix pup please complete an application
I'm happy I found my forever family!
~
The United Nations Group
Meet this international family that will melt your heart, and serve as a reminder that love is able to bring together even the most diverse groups, and give them a chance to build a better future together.
The United Nations Group has originated in London, virtually without any assistance from other nations. Or at least no one has come forward to take responsibility for the formation of the group. The group had its incubation period, and came to existence in the beginning of October, kicking and screaming.
This newly formed group overcame harsh realities of being abandoned, scheduled for permanent termination, but with help of some really great people, survived, and is currently looking to expand their influence and deliver free hugs, and unconditional love to many lucky families who are in need of such services.
The United Nations Gang consists of 10 members.
Leading (and feeding) the group is London, a 2 year old, Labrador/hound mix, who is possibly the sweetest dog you'd ever meet. The patience and poise with which she handles the sharp, and painful comments (and nibbles) from the other members, leaves me confident that she will give a lucky family an opportunity to join the ranks of her team, and together continue giving love and hope to millions.
York, also from England, the first member to join the group is a natural-born leader, and takes after his mom, in more ways than one, differing mainly in his gender, and energy level. But then again, he doesn't have to hold meetings 3-4 times a day, to satisfy the hunger of 9 demanding group members.
Jaffa, a wonderful contributor to the group, from Israel, brings with him the lightest coloring, the chubbiest booty, and a very playful character. He loves to strike debates with York, trying to prove to each other the need for the food supply to be equally distributed among the countries.
Austin, our USA representative, feels strongly about equality in the world, and especially in the UN, and tends to let his teeth do the talking. The group often selects him as the spokesman, in negotiating the type of toys the group receives daily.
Rio, our Latin colleague, is very much in tune with the rest of the group, however, values his siesta time, and makes sure to always get a warm place in the sun, when the UN group has their summits on the deck.
Odessa, our Russian ally, singlehandedly covers the biggest area, in her physical volume, her cocky presence and her clever, determined personality. She has repeatedly (and successfully) organized raids outside of the designated area, and brought back valuable information, such as the location of perishable goods, and softest couches.
Berlin & Vienna, our German speaking members, are so alike, that even  their own mother has difficulties telling them apart. They are both very feminine in appearance, but cunning and organized in their approach to gaining best spots during the meetings that London holds daily. These girls like to lounge around, and are definitely willing to listen to other member opinions before throwing their own tails into the conversation. In other words, you can negotiate with this duo.
Paris, our French connection, is definitely worthy of her name. Having virtually the same coloring as her Northern European sisters, she is just a little softer, kinder, and fluffier. Love is definitely her middle name.
Last, and sort of least, (and in reality the tiniest) most adorable member of our group, Lima, joined the group after everyone else, which is understandable, considering she comes to us from Peru, and it took her a much longer time to arrive. She is timid, and mellow, she knows her place, and doesn't get into unnecessary debates with the stronger standing countries. However, this approach has earned her multiple private audiences with London, the founder of the group, where the two were able to share their views on the current milk supply situation, and Lima, unquestionably contributed to the status of things.