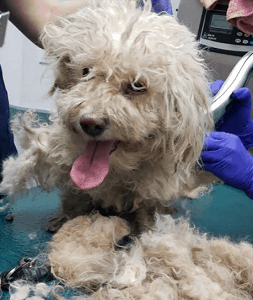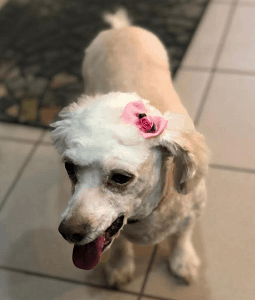 On February 19th one of our volunteers saw this poor shivering and extremely matted dog chained to a fence this morning by the Brooklyn Navy Yard. The owner finally came from the nearby store, admitting that she doesn't want the dog and agreed to surrender her to us. Little Lemon sat calmly as we groomed her and removed pounds of matted fur. We got her vetted and groomed and unforntaltey had to shave everything down, but her little curls will come back out soon! She is behaving wonderfully in her foster home with 6 other dogs and is really a little bright and happy girl like her name would suggest. Lemon is 19 pounds and is a 4 year old Havapoo! She will be great in any home including one with other dogs and children. Apply to give this very deserving dog a forever home below.
Thank you to everyone who helped us save Lemon and more emergency cases like her. To help us save more lives please consider making a donation in honor of Lemon's rescue by clicking below:
I'm happy I found my forever family!