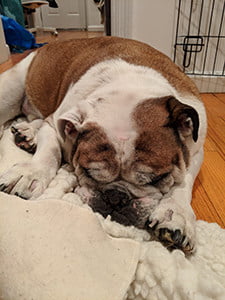 Meet HUNKY, CHUNKY, SQUISHY FACED KING 👑 a 9 year old ADOPTABLE #EnglishBulldog who is looking for his forever family.
Unfortunately his previous owners are no longer able to care for him, and know that he deserves a better life. King used to live with a cat, and is good around other dogs. He is now in his foster home and has been enjoying playing in the snow.
He is strong at 75 pounds ,and is a BIG KISSER💋. He gets very hyper and playful once he is excited. He has been vetted and fully vaccinated and is neutered. King has dry eye which he gets drops for, and we are treating a mild skin infection with antibiotics.
I'm happy I found my forever family!