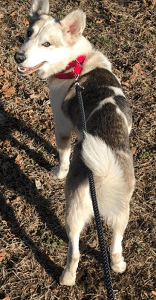 Just like his namesake would suggest, ADOPTABLE Jon Snow is one handsome gentleman, with eyes that will pierce right through your soul. He arrived yesterday from a rural shelter and has already settled in quite nicely in his Brooklyn foster home.
He was listed a Norwegian Buhund mix but due to his long body and ears we're thinking he's got some Husky and Corgi in him! Jon is 1.5 years old and 40 pounds. When outside he's full of energy and loves to play while taking in the fresh air, inside he's the snuggliest love bug who wants to lay be side and snooze away as you pet him. Jon loves all people, dogs of all sizes and cats too! He also seems to be housebroken!
Once you meet him it's pretty hard not to fall head over paws for him. Learn more about Jon in our story highlight on Instagram @rescuecity – apply to adopt this stud at www.rescuecity.nyc if you're ready for some Jon Snow❄️in your life!
I'm happy I found my forever family!