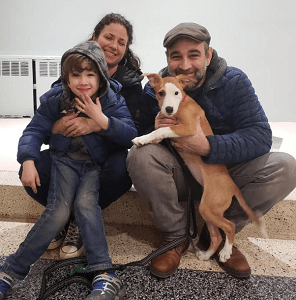 Meet our #RCJollyPups! Every dog needs a home for the holidays, when we were alerted of this litter in the shelter, we stepped in right away so they can be in a warm bed in time for Christmas!
Jinglebelle is thriving in her foster home and learning what it's like to be in a home and socialize with other dogs and humans! We think Jinglebelle is a lab mixed with some terrier, it's hard to tell as the whole litter is so different looking, but they are 100% cute, and around 6 pounds each currently . We think they will be around 45-55 pounds full grown.
This cutie is learning the ropes from her big foster brother Basin on how to be a real dog! She likes treats, toys and has already learned to do her business on the wee wee pad. Plus – how can anyone resist that spotted nose? Are you ready to take Jingelebelle all the way home?
These happy, jolly pups will do great in any home including one with other animals and children, which continues to keep them socialized and active!
I'm happy I found my forever family!