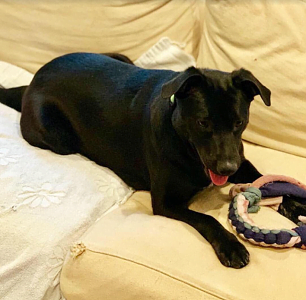 Infinity is a lab/hound mix who is full grown at 1 years old and 40 pounds. Rescued from the shelter while pregnant, she's now ready for adoption and is ready to be your BFF!
We saved her and brought her to a foster home where she nursed her puppies. Now that they are weaned off mama, Infinity and her puppies are each ready to find their forever homes.
Infinity loves attention from humans. She loves to be pet, to curl up beside you, and to know that she is loved! She has spent her time in a foster home with children and two other adult dogs. She will thrive in any home that will continue to keep her social and active. She loves being outside and also seems like she knows to do her business outside! She is also scheduled to be spayed now that she is done nursing.
Infinity is an amazing loving dog ready for her new family!
I'm happy I found my forever family!