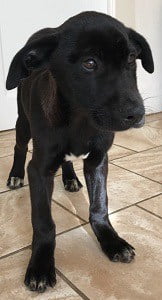 Frankenstein is our litter FIGHTER! 
🏽
A 12 week Old, 20 pound Golden/Lab mix, Frankenstein came to us from a rural shelter with his 5 siblings on November 4th. He is the only one different from the rest of the male pups in his litter with his little white patches of fur!
He is one of 3 Parvo survivors of the litter and had the toughest battle, he was unknowingly exposed to the virus before coming into our care, but he is a fighter. He kicked Parvo's butt and is now back to being a handsome and thriving puppy!
After spending a week in ICU under the care of the best team of vets at VERG he made a full recovery. Frankenstein wants nothing more than the love he's missed out on, and he's got endless love, cuddles and kisses to give back in return. He's ready to be your new best friend!
We saved our 3 Parvo puppies who were fighting for their lives because of the help of fellow animal lovers who donated and shared their story! We are still paying off our Parvo Puppy vet bills, if you are able to make a donation of any amount please see their fundraiser: http://bit.ly/CriticalParvoPuppies
We are so grateful for all the support we have received ❤️ Now Frankie is ready to live a long happy and healthy life!
I'm happy I found my forever family!