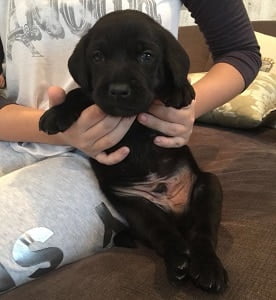 Welcome baby FLINT, part of our Dyment Litter. Flint his mom and 6 brothers were dug out of a drainage pipe in the South when they were a mere 6 weeks old. We rescued them and brought them to safety where they are flourishing in their foster home.
Since the end of December FLINT and his littermates have been fostered together with children and other dogs. They are now about 10 weeks old! Now that their mamma is done nursing they are each ready to find forever homes of their own. Mama Diamond is a hound mix who is about 40 pounds. These puppies are extremely loving, playful, affectionate and well socialized. They've got incredibly adorable faces and floppy ears. They will make the perfect loyal companion the family that wants to make them theirs forever and would be great in a home with other animals or children. They will be fully vetted, vaccinated and spayed prior to finalization of adoption.
View the other #RCDymentLitter pups.
I'm happy I found my forever family!