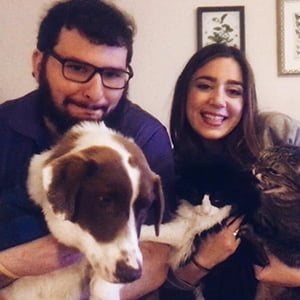 Bueller? Bueller? Bueller?
These derpy looks are brought to you by our latest Southern transplant, Mr. FERRIS BUELLER 🐶. This handsome pup is a 1.5 year old, 52 pound #LabMix who is super sweet, cuddly and goofy!
His foster mama writes: He follows us everywhere in the apartment. He's gentle with cats 🐱and getting used to realizing he can't play with them like dogs. He's extremely friendly with everyone he meets (young children, other dogs, and adults). Ferris is a good listener and knows to stop if he's doing something wrong. He still has to learn some puppy manners, but is good on a leash!
Ferris is ready to find a family that will spoil him and keep him active. He really would be the perfect addition to any home!
I'm happy I found my forever family!