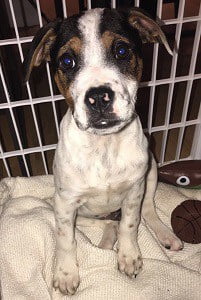 Most could only dream of spending New Year's Eve in NYC. That wish has come true for ADOPDTABLE Dom Pérignon and Cristal who have arrived just in time to ring in the New Year in the Big Apple 🍾
These lab mix littermates are 3 months old and were found in a terrible part of town in South Carolina. They are each ready to find a forever family to call their own. Dom is the male puppy with a very unique snout and spotted coloring. Dom loves to roll over on his back for a belly rub, loves his toys and playing with his sister.
Both pups have been in their foster homes since December 30th, they are learning to master wee wee pad training and basic commands. They will be fully vetted and spayed/neutered prior to finalization of adoption.
View the other #RCChampagnePups!
I'm happy I found my forever family!