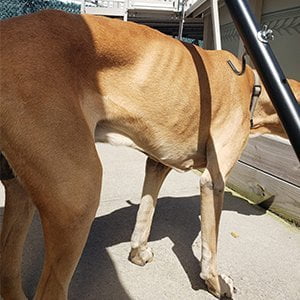 Meet DANTE – Dante is a purebred Great Dane who is about 10 years old with a very sad history of being passed around from home to home with unfit owners.
He's very thin, and has some irritated eyelids that we'll look into. One of our adopters stepped in to offer Dante temporally placement but he urgently needs a permanent home.
Dante is good with other dogs and children, he has a calm temperament and is a GENTLE GIANT ♥️.
If you are able to open up your heart and home to this special dog in need please apply below, or if you would like to sponsor Dante you can make a contribution below.
I'm happy I found my forever family!