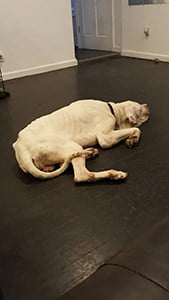 BIGGIE SMALLS is still looking for his forever family, and we are hoping to find a SPECIFIC ADOPTER for this incredible dog.
⠀⠀⠀⠀⠀⠀⠀⠀⠀
Biggie is very active and clumsy. He throws his paws around, jumps for hugs and loves standing on your shoulders during play and may accidently hurt small children which is why he would do best in a home with children over the age of 8. We are looking for a home WITHOUT any dogs for Biggie because although he is friendly with other dogs and loves hanging at the dog park, he prefers to be the only dog in the house (Biggie was previously adopted with our rescue, and had a female sibling – it did not work out after about 2 months — please do not inquire if you have other dogs, we will not permit another adoption to a home with dogs). Biggie is fine with cats. He deserves to be the center of attention, someone's love of their life, someone's one and everything… GIVE HIM THE CHANCE TO THRIVE!
Biggie was rescued from neglect, starvation and being left chained outside, he's lived a horrid life for 4 years. His brother did not survive that life. Biggie adjusts well with structure. Biggie cannot be crated. Overall he is a huge mush, who is just unsure of how big and strong he really is. He has an incredibly affectionate spirit and so desperately wants to be loved.
⠀⠀⠀⠀⠀⠀⠀⠀⠀
You can read more about Biggie's story and the arrest of his former owner here.
I'm happy I found my forever family!