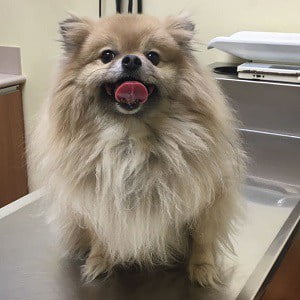 Alone, cold and hungry is exactly how my owner left me in our home when he walked out and abandoned me.
My name is Belle, and as gorgeous as I am, this is the first I time I have smiled in many days. I am in urgent need of medical care, Rescue City received a desperate plea to save me and their foster Leslie sprung to action the moment she heard about me. Today was my first night eating nutritious food while cuddled up in a warm bed. I am extremely fluffy which makes it hard to tell how bad my condition is, someone really hurt me and I don't have much use of my rear legs … or maybe just one leg, but a vet at Sheepshead Bay Veterinary Group will determine that.
UPDATE : Being the sweet pup that I am, and being extremely friendly with dogs and kids; I also learned to hide my pain … which I experience a lot of .. My Xrays revealed that I have a fractured hip and patella luxation is BOTH knees. I need surgery ASAP.
UPDATE: Thanks to our kind supporters Belle was able to receive a Luxating Patella surgery on her left knee and has begun her journey to walking on all fours again! It will be about 2-3 weeks before Belle can get around on her left leg, she has a follow up visit next week where the vet will determine when the surgery on her right knee will be scheduled.
We couldn't have possibly helped Belle without your generosity.
I'm happy I found my forever family!