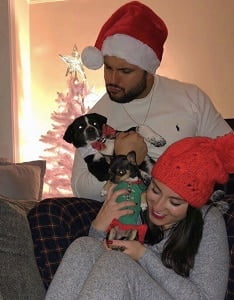 ASPEN & PENNY are two tiny, but super soft and extra FLUFFY puppies rescued from the SC shelter. They arrived early morning on December 10th.
We're guessing these adorable pups are mixed with Shepherd, Husky and mystery! At 8 weeks old they are only about 8 pounds but we estimate them to grow into good large-medium size dogs. They will do great with other animals and children, and are looking for a forever family who will keep them exercised and socialized.
They are both being cared for by their loving foster homes were they are learning to socialize with both dogs and people, use the wee wee pad and are getting a head start with basic commands! They will be fully vetted, vaccinated and spayed/neutered prior to finalization of adoption.
I'm happy I found my forever family!