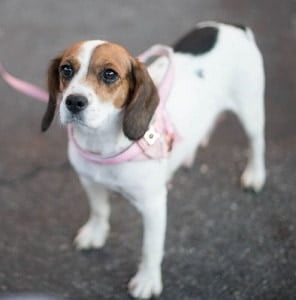 We rescued America from our partner shelter in SC while she was pregnant! She She had spent over a month nursing her puppies in a safe and warm foster home and is now ready to find a forever home of her own!
America is a gorgeous 2 year old Beagle lady. At first she comes off as a shy pup but quickly warms up to humans and loves to wag her tail, snuggle and explore. America weighs around 20 pounds and is currently fostered with another female dog. She loves cuddling up to, and playing wit her foster sister. She also loves to sleep in her crate at night and is house trained.
She is an angel of a dog who would do well in any home including one with other dogs and/or kids.
View the other #RCFreedomPups.
I'm happy I found my forever family!